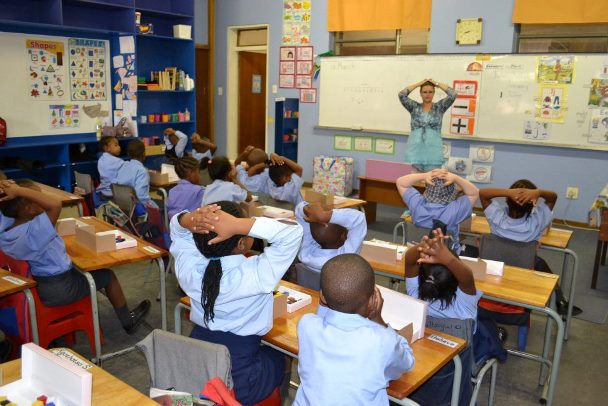 The article below was published in Pretoria News on March 28, 2012:
Many children are being "diagnosed" with Attention Deficit Disorder (ADD) or Attention Deficit Hyperactivity Disorder (ADHD) these days, but Susan du Plessis, director of educational programmes at Edublox reading and learning clinic, believes the disorders can be cured or even prevented if certain behaviours are intercepted and the brain is trained from an early age.
"Our research over many decades has shown, and many studies have confirmed, that a weak foundation in cognitive skills is the biggest issue facing struggling learners and readers.
"Underlying cognitive skills ― concentration, auditory processing, working memory, etc. ― must function well for you to efficiently and easily read, think, prioritise, understand, plan, remember and solve problems.
"At Edublox we improve, strengthen and enhance these mental skills through dynamic training and practice. In short, we train the brain through group classes and custom-designed computer programs," said Du Plessis.
She gave an example of Grade 3 pupil Jean Gilau, who had trouble sitting still, concentrating in class and completing tasks given to him.
Jean was not officially diagnosed with ADHD, but his teacher was adamant that he had this condition. Even though Jean's parents were told he would grow out of it, they faced the immediate challenge of getting their son through school.
Du Plessis said his parents enrolled Jean in the Edublox system last month and there had already been an improvement.
"For example, he is remembering things that I tell him to do. In the past, for example, I would ask him to ask his father for something but by the time he got to his father he would have forgotten what the instructions were," said his mother, Theona Gilau.
"These days, I can give him a whole list of things to do and he remembers everything."
She has noticed her son is a lot more confident and is able to concentrate on tasks.
"His new teacher can't believe there was ever a suggestion that he may have ADHD as he no longer displays any of the ADHD behaviours of a few months back," said Gilau.
At Confidence College in Pretoria CBD, principal Anelize van Eeden encounters many pupils who displays ADHD behaviours.
"It's much too easy to pin a child's behaviours on a specific condition when they don't want to sit still, listen or concentrate," she said.
"ADD/ADHD behaviours and symptoms can definitely be reduced with the correct inputs from the school and parents."
So, what can be done with learners who display ADD or ADHD behaviours?
Van Eeden believes that "regular teacher and parent contact is critical to discuss the behaviours and possible solutions".
"A child's diet is very important, too, as a healthy diet plays a key role in how a child behaves."
Before labelling a child as having ADD/ADHD, test the child's hearing and vision, as impaired hearing and vision could also affect their behaviour, she suggests.
"At Confidence College we try to curb the ADD/ADHD-type behaviours by keeping the classes exciting. Learners can't be expected to sit still for long periods of time so we bring in different activities and stimuli during their classes.
"It is important to provide the learners with structure in the classes and to enforce limits and boundaries through reminders and repetition. Praise and approval also play an important role when instilling positive behaviours," said Van Eeden.
She said they were very fortunate to have the assistance of Du Plessis from Edublox, who helps once a week with pupils who display ADD/ADHD-type behaviours. "We have seen a great improvement in their demeanour and attitude towards school and learning. Teachers have indicated that they have seen a vast improvement in the learners' comprehension tests and the concentration of the children has definitely improved," Van Eeden said.
Recent studies support the notion that many children with ADD/ADHD have impairments in cognitive skills, especially working memory. Working memory is the cognitive system responsible for the temporary storage and manipulation of information. For example: to solve an arithmetic problem like (3 X 3) + (4 X 2) in your head, you need to keep the intermediate results in mind (i.e., 3 X 3 = 9) to be able to solve the entire problem.
Working memory is necessary when staying focused on a task and blocking out distractions.
Du Plessis said many years ago her father, Dr Jan Strydom, developed a school-readiness programme for her sister. This programme was published in 1979 and was used by many parents for their preschool children.
"Quite by accident, in September 1980, the programme was used for a child with severe learning disabilities. This child not only overcame his learning disabilities, he became a top achiever in his school," said Du Plessis.
"I became involved in 1988. My background is psychology. I spent much of my time doing research on dyslexia, ADHD, cognitive skills and cognitive development, which, of course, has helped to continually improve the programme. The one-on-one programme, for example, that is quite popular abroad, is now in its 12th edition.
"In 2006, my father retired. I took the best practices that had been developed and implemented since 1979, revisited many exercises based on the latest research, and modernised the concept into a clinic."
She said an experimental clinic opened in 2007 and by the end of 2009 the concept was franchised.
The first franchise clinic opened in 2010 and there are currently 10 Edublox clinics countrywide with more opening in April.
.
---
Edublox

specializes in educational interventions that make children smarter, help them learn and read faster, and do mathematics with ease. Our programs enable learners to overcome reading difficulties and other learning obstacles, assisting them to become lifelong learners and empowering them to realize their highest educational goals.
---