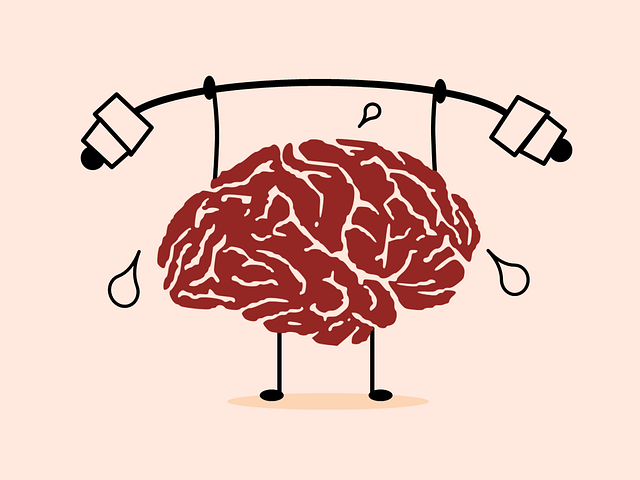 "Individuals with dyslexia can have weak working memory skills and there are many 'brain training' programs, with slick marketing behind them, that purport to improve or even cure dyslexia by having the student complete exercises that target working memory and brain training. The research literature is clear that these techniques do not generalize to reading, spelling, or comprehension (math)."
Pam Cook, M.Ed. presented this warning at the LDA conference in 2014.
Pam Cook is correct. Partially. Improving cognitive skills like working memory will not cure dyslexia. However, even the best reading program will not yield long-lasting results if the child's cognitive skills are poor. It's like being caught between a rock and a hard place.
Cognitive deficits linked to dyslexia
Except for auditory working memory, cognitive psychology has now linked many brain-based skills to dyslexia: verbal fluency; attention and executive functions; phonological and phonemic awareness, visuo-spatial abilities; processing speed and rapid naming; short-term memory; visual short-term memory and visual long-term memory for details. Improving these cognitive skills through cognitive training are obviously key to turning dyslexia around.
Unfortunately, cognitive training, popularly known as brain-training, has fallen into disfavor among LD practitioners. In one study, that without a doubt contributed to the distrust of brain-training, viewers of the BBC science program Bang Goes the Theory were recruited to practice a series of online tasks for a minimum of ten minutes a day, three times a week, for six weeks. In one group, the tasks focused on reasoning, planning and problem-solving abilities — skills correlated with general intelligence. A second group was trained on mental functions targeted by commercial brain-training programs — short-term memory, attention, visuo-spatial abilities and math. A third group, the control subjects, simply used the Internet to find answers to obscure questions. A total of 11,430 volunteers aged from 18 to 60 completed the study, and although they improved on the tasks, "no evidence was found for transfer effects to untrained tasks, even when those tasks were cognitively closely related" (Owen et al., 2010).
One reason why the experiment yielded no transfer effects is simply because the training time was too short. Subjects completed an average of 24 sessions — at ten minutes a session, that's only four hours of training. According to fitness authority Bobby Maximus (2018) getting physically fit requires at least 130 hours. The brain is no different; even twenty hours would have yielded meagre results.
A combination of long-term brain-training and excellent reading tutoring is key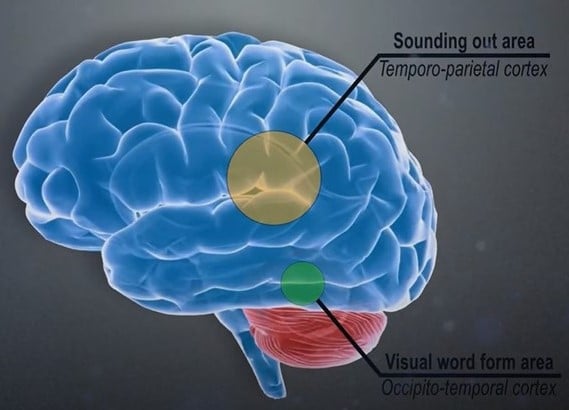 Research shows that a network of brain regions is involved in learning to read, one specifically in sounding out words, and another in seeing words as pictures. The picture area is the visual word form area or visual dictionary, and allows for fast and efficient word recognition.
Both brain areas must be trained in the teaching of reading, and Edublox's Live Tutoring program aims at doing just that. Our program is based on the well-known Orton Gillingham approach, which develops the sounding out area, but simultaneously aims at developing the brain's "visual word form area".
In addition, Edublox intervention aims at developing the cognitive skills — or brain-based skills — required in reading and learning.
Turning dyslexia around
Below are the i-Ready test results of a third grade student who was diagnosed with dyseidetic dyslexia. He is currently doing Edublox's Development Tutor at home to improve his cognitive skills, and has so far received 25 hours of Live Online Tutoring over a period of six months. Most areas are now on par and another 25 hours of Live Tutoring are planned to ensure that he catches up completely and doesn't fall behind again.
.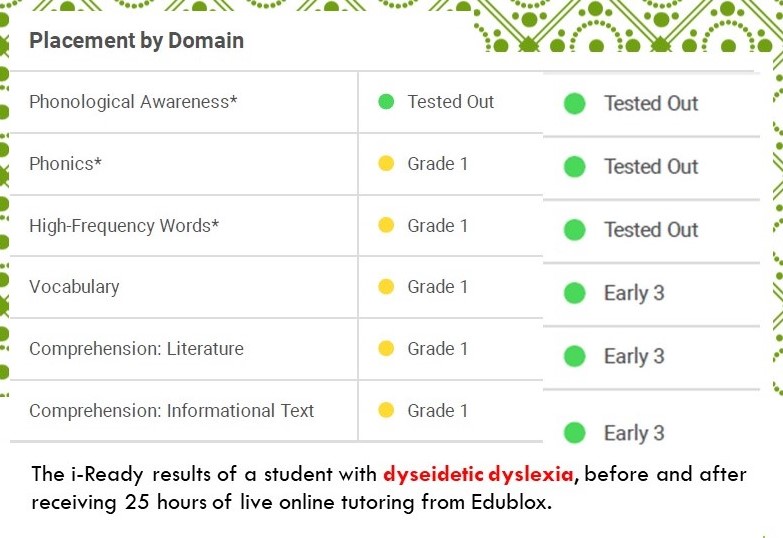 Below are the test results of a student who was diagnosed with severe dyslexia (1st percentile), and who received intensive Edublox intervention starting in February. By August she tested on the 5th percentile (PR), according to the Star Reading Test, and by May the following year on the 55th percentile. (NOTE: The 1st percentile is the lowest and 99th the highest.)
.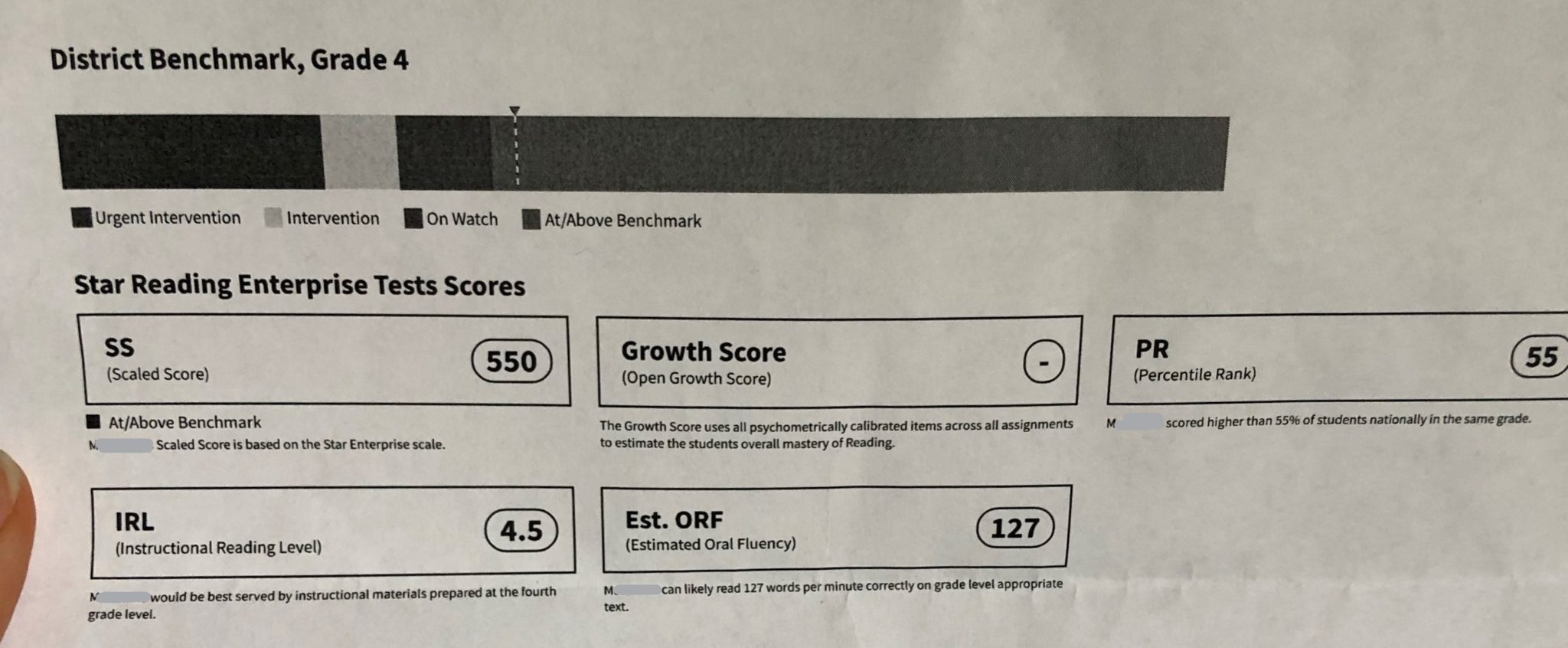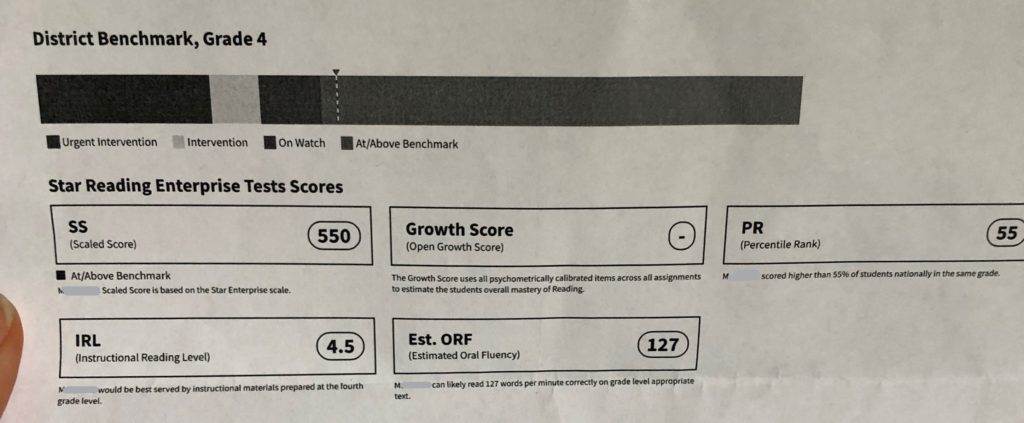 ---
---
.
References:
Maximus, B. (2018, October 2). The 130 hour rule. Retrieved from https://www.bobbymaximus.com/the-130-hour-rule/
Owen, A.M., Hampshire, A., Grahn, J.A., Stenton, R., Dajani, S., Burns, A.S., Howard, R.J., & Ballard, C.G. (2010). Putting brain training to the test. Nature, Retrieved from www.nature.com/doifinder/10.1038/nature09042.