The team here at Edublox Online Tutor has been hard at work since our last project update. Our developers are performing their brand of magic to perfect our online cognitive, logical thinking and pattern exercises, mapping their way through enchanted worlds like the Treasure Island Mermaid Isles, and refining the user experience so that parents, teachers and children can have a seamless online learning journey.
Developers use words like 'concept and tech design', 'protocol', and 'stress and user testing', but here at Edublox we are having a blast watching our avatars, creatures and lovely worlds come to life and we can't wait for parents and children to meet and explore them!
Since we couldn't resist…here's a sneak peek of one of our progress screen design concept (say hi to little Tookey!)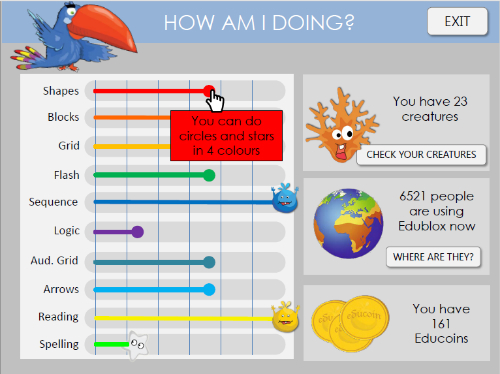 We are on track to launch with Development Tutor before the end of the month of February, and are planning a phased roll-out for the Reading Tutor product and other aspects like the Educoin functionality (the reward coins that children can use to collect creatures). Watch this space for Launch Specials and reduced rates for the first users to join us in our journey to become part of the biggest online classroom in the world.
We can't wait!
.
---