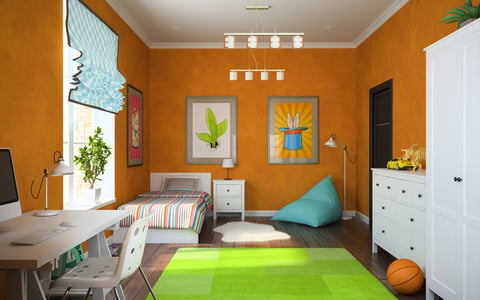 Enhance your child's childhood with a room that stirs the imagination, builds skills, and is never a bore. Get your child to lend a hand and develop their creativity.
Fun wall projects for your child's room
Start with the walls. You can do many things to dress up those four walls in your child's room. Hang wallpaper or a border with a theme your child will love. If you don't want to use typical wall border, create a wall border with your child's hand prints using coloured paints or their own artistic drawings. Use fabric pattern stencils to create characters and scenes for each wall. Paint a mural on one of the walls depicting your child's favorite theme. You might also consider a glow-in-the-dark wall mural so your child can gaze into an imaginative world while falling asleep.
You can use wallpaper cut-outs or have your child create a wall art gallery with framed watercolors or drawn pictures of their own. Also, consider adding a growth chart to the wall so your child can mark their height every six months or so.
Hanging decor
Besides decorating the walls, you might hang items across the room in mid-air to stir the imagination. Have your child create cut-out art items such as their favorite animals, sports, or characters, and create a clothesline art display. These can hang about a foot from the ceiling without being in the way.
You can also create a dangly doorway entrance curtain for your child's room with some long, thick string and items of your choice such as cut-up foam noodles (in doughnut shapes), plush items, ribbons, or disks made of card stock. Other materials that can be used for this type of decorative curtain include beads, straws, washers (yes, the metal ones), and a tension rod to hang the strings within the door frame.
Other hanging decor ideas include a space gallery of glow-in-the-dark planets and stars, a mobile made of your child's favurite key chains or small toys, or handmade specialty hooks to hang keys, door handle hangers, ball gloves, coats, umbrellas, etc.
Window decor tips
The window treatments should be decorative and fun, but should also provide adequate covering for safety purposes. If using see-through curtains, be sure to install mini-blinds or a roller shade. It's great if you can find a plain-colored valance to hang over blinds or shades and then decorate the valance.
For a girl, sew ribbons and frilly lace on the valance or embroidery designs to match her room. For a boy, attach figures of planes and trains, balls, animals, or any items from his favourite theme. Or, you can help your child decorate or paint a wooden cornice box to hang over the blind or shade.
Live animals
Does your child love pets? Set up a small "animal kingdom" in one corner of their room and create a theme to go with their pet. You might try a sea-creatures theme with goldfish and other types of fish in a medium-sized aquarium. Or, create a desert-land theme with an iguana, frogs, or pet snakes. Create a farm theme with guinea pigs or hamsters. Or, create a jungle theme with a parrot or parakeet.
Gardening ideas for your child's room
Have your son or daughter plant their own mini-garden in their room with potted plants. There are many indoor plants your child can water and watch grow. Some great indoor plants are cactus combo bonsai, Chinese evergreen, miniature herb topiaries, moth orchid, braided ficus tree, ponytail palm, angel ivy ring topiary, and chamaedorea palm. With this decor project, suggest that your child decorate their own plant holders and pots.
Most important of all, decor projects for children's rooms should be all about having fun. A themed room that your child helps to create will give them something they can be proud to call their own!
.
---
---