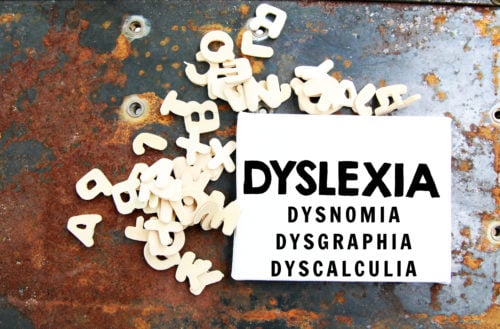 Dear Susan
I saw Maddie's 13-week video on Facebook this morning and then went and read all of her updates. My daughter Amy also tested as profoundly dyslexic and struggles in math, writing and spelling as well. We have done two years of OG and have seen reading improvement, but she is still at least two grades behind. She has always been homeschooled though.
I would love to give my girl that much success and progress as shown by Maddie.
Amy is 9 (10 in September) and has been homeschooled all along with her older sister (age 12). I knew at age 5 she wasn't ready for kindergarten yet as she only liked to play (mostly with dolls) and showed no interest in her sister's school time, so I waited to start kindergarten with her until she was 6. I still didn't think she was ready but by law I had to start her. Her older sister was a "late" reader starting at about age 7.5, so I was pretty relaxed about trying to teach Amy to read, but we did work on letter sounds and such as is typical in kindergarten. I could tell that things weren't really sticking though. Still, I didn't really get nervous until end of her first-grade year when letter sounds still weren't sticking for her. She could barely read, "The cat sat."
That spring I signed her up for an evaluation at a dyslexia tutoring center and took the first appointment I could get in September. Her results came back as profoundly dyslexic with working memory issues, dysnomia, dysgraphia and likely dyscalculia.
Test results
Here are the results of three tests: CTOPP-2, RAN/RAS test and WIST. I was quite overwhelmed by it all initially.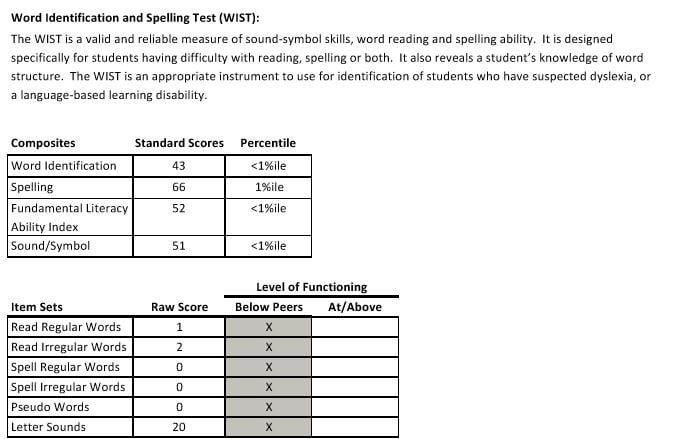 OG tutoring
Amy began working with a tutor 1-on-1, twice a week for an hour each time at their center using the XXX program (an OG program, name omitted). We did that for a year, and then we unexpectedly moved out of state. We tried to do online tutoring with the same tutor whom she loved, but when she went on maternity leave in October, Amy shut down and refused to participate with any other tutor. So, in December, I canceled her sessions and we took a month off.
In January I started tutoring XXX (another OG program, name omitted) with her myself. We work on it most days. Some days she can only focus for about 30 minutes, but most days we are able to do 45-60 minutes. We are at the beginning of book 3. Progress is slow, but it is progress. She can read very simple books and has memorized many words (sight and phonetic). As a plus, she has good reading comprehension, both when reading herself and also when being read to. Until recently she hated listening to audiobooks, but now she will do so without complaining.
Here is a video of Amy reading:
.
.
And here is a photo of copywork she has been doing. It's the book of John from the Bible for reference.
.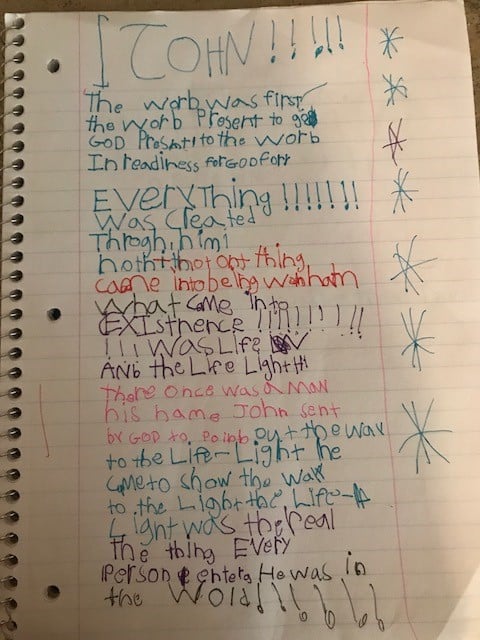 .


Math challenges
As for math: I was so concerned about her reading last year that we did minimal math. This year, however, we have been working on addition and subtraction. We spent the entire year just working on single digits and she still cannot confidently answer 7 + 1. We play a card game like Go Fish where, instead of asking for a 3 when you have a 3 in your hand, you ask for a 7 to make a 10 (8-2, 4-6, etc.). She plays this game flawlessly, however, even after repeated explanations, she cannot translate that game to be able to answer 3 + 7 or 8 + 2. She generally counts on her fingers or uses a laminated 100 chart like a number line to get her answers. She is able to do this with about 85% accuracy but even repeated problems such as 7 + 2 and then 2 + 7 each require new computation. Nothing is internalized. So, at the moment, I'm more concerned with her math skills than I am her reading since at least she is making some progress in that.
She is a delightful girl and very creative. She loves playing with American Girl Dolls, Barbies and a set of horses and dolls. She creates amazing stories for them and can get lost in her imaginary world for hours. She is realizing that other kids her age can read and do math better than she can. She hasn't expressed frustration with that yet, but I fear it is coming.
As for me, I'm exhausted and discouraged. I simply do not know what to do.
So, now, tell me about your program and what things you might be able to help with.
My sincere thanks for reading all this and taking the time to reply.
Chloe
June 11, 2018
.
---
.


The outcome…
To make a long story short, I compiled a program for Amy that consisted of Reading Tutor plus additional hands-on exercises:
(1.) Two exercises to address her letter reversals (scroll up to see the reversals in her copywork), two exercises to improve handwriting, and an additional reading exercise.
(2.) Two math exercises — an exercise to automatize counting and one to automatize addition. Subtraction, multiplication and division were to be dealt with at a later stage.
(3.) Advice on improving her language ability.
During a ZOOM session I did a lesson with Amy and trained Chloe to do the additional exercises.
Chloe and Amy started working in early September of 2018. On October 20, 2018 I received an email from Chloe:
HELLO!
Amy finished a book yesterday that we did using your method of word cards. I started pulling cards for a second book yesterday. This morning she picked up the book I intended as that second book and READ all 48 pages herself! A few words she asked about but about 90% read it herself. Thank you!!!! A very happy day for both of us!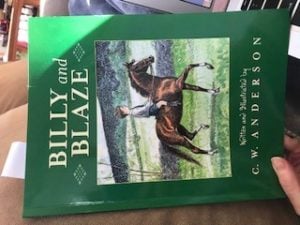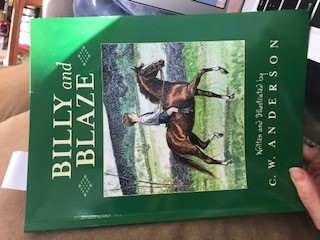 A second email was received on December 19, 2018:
If you are able to download this video you can see how much better she is reading. She picked this book up about a week ago and read 90% of it without help!!! So we made a video to give her Grammys for Christmas. ❤️ Thanks for your tools which have helped us make this progress!
.
.
Regards
Susan
..
---
Tips for sending questions
Send your questions to [email protected].
Try to give as much detail as possible when sending your questions. Include your child's age and grade and the specific problems that you have noticed, which concern you.
Sign your letter to Susan with your first name only, or a pseudonym if you prefer. Your identity remains private and we will not publish your contact details.
More about Susan
Susan is an educational specialist in the field of learning problems and dyslexia and has a B.A. Honors in Psychology and B.D. degree. Early in her professional career Susan was instrumental in training over 3000 teachers and tutors, providing them with the foundational and practical understanding to facilitate cognitive development amongst children who struggle to read and write. With over 25 years of research to her name Susan conceptualized the Edublox teaching and learning methods that have helped thousands of children who were struggling academically to read, learn and achieve. In 2007, Susan opened the first Edublox reading and learning clinic and now there are 40 Edublox clinics internationally. Her proudest moments are when she sees a child who had severe learning difficulties come top of their class after one or two years at Edublox. Susan always takes time to collect the 'hero' stories of learners whose self-esteem is lifted as their marks improve.