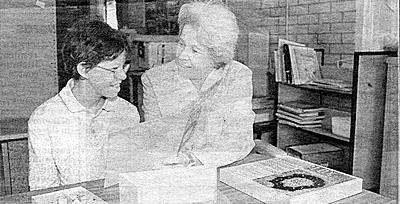 Audiblox is our previous learning program, and has been upgraded to

Edublox Online Tutor

. This article appeared in the South-West News in Australia in 1998:
For 15 years Karusha Kratz has only been able to read four words.
But after a two-week intensive learning program called Audiblox, Karusha can read 45 words.
Karusha, 15, has Williams syndrome. Williams syndrome is a rare genetic disorder which causes varying degrees of intellectual disability.
Karusha's mother Liz Kratz said Karusha's improvement was "absolutely incredible."
"We had started with reading programs since she was three and nothing seemed to work," she said.
"Up until now she couldn't read ladies and gents on toilet doors so I couldn't let her go anywhere independently."
Audiblox uses colored blocks to re-teach memory, concentration and sequencing skills.
The program began in South Africa and was introduced by Christiene Swanepoel who came to Australia to market the product.
School principal Ross Miles said he was excited by the program's results. "We are very impressed by the short-term gains, they have been significant."
.
---
Edublox Online Tutor offers multisensory cognitive training that enables learners to overcome reading problems and learning challenges and reach their full potential. Over the last 30+ years, the company behind the Online Tutor e-learning platform, Edublox, has helped thousands of children to read, learn and achieve through home kits and learning clinics internationally. Our programs are founded on pedagogical research and more than three decades of experience demonstrating that weak underlying cognitive skills account for the majority of learning difficulties. Specific cognitive exercises can strengthen these weaknesses leading to increased performance in reading, spelling, writing, math and learning.
---