Slow learner is a term that is sometimes used for low-ability students, with an IQ between 70 and 85. These individuals make up approximately 14.1% of the population, larger than the group of children with learning disabilities, intellectual disabilities, and autism combined.
Yet, for this extremely large and vitally important population, research is scarce and getting harder to find every year. Slow learners are rarely eligible for special education programs or community services, even though they frequently do not have the skills to be successful in school or general society. There seems to be few large-scale innovative educational or mental health programs for this group of students.
Characteristics of slow learners
They learned to walk and talk but seemed delayed and slower than other children
Having trouble academically in kindergarten, but fall further behind every year
May seem immature for their age
Like playing with other children, but prefer playing with children who are younger than them
They make friends, but friendships don't seem to last
When they carry on a conversation, they have trouble coming to the point
They frequently say "off the wall" things that have nothing to do with the rest of the conversation
When they become teenagers they may want to be treated as adults, but think and act several years younger than their peers
Have short attention spans
Studies but can't seem to retain what they learn
They have difficulty following multi-step directions
They score consistently low on achievement tests, however, may work well with hands-on material
They try hard, but can't keep up with their classmates
Are generally weak in reading and writing
Often lack self-esteem
Need support and encouragement to maintain their interest
They tend to live in the present and do not have long-range goals
Were recommended for special education, but didn't qualify


.
Help for slow learners
Special Education services are provided for students who have a disability. Slow learners typically do not have a disability, even though they need extra support. They are stuck between a rock and a hard place: their cognitive abilities are too high to be considered for an intellectual disability, but their cognitive abilities are usually too low to be considered for a learning disability.
"Slow learners account for a disproportionate number of school dropouts, unwed teen mothers, illicit drug users, functionally illiterate persons, incarcerated persons, unemployed, underemployed, violent offenders, alcohol abusers, school failures, low scorers on group tests and gang and hate group members," says Lourene Williams-Medlow in her book Turning I can't into I can. In other words, slow learners can disproportionately account for nearly every major problem within education and society.
Personally, I dislike the term "slow learner." To label children as 'slow' is degrading – it is telling them they are not as good as others. We should never forget that every child is unique in their own way. "Slow learners" are merely children who need extra help and specialized teaching to allow them to learn and grow.
Below is a graphic presentation of a student who did two IQ tests before she enrolled in the Edublox program (2015 and 2016), and one after she did Edublox intensively for approximately nine months (2018). This example — like many others — confirms that IQ is not a fixed quantity but can increase through education.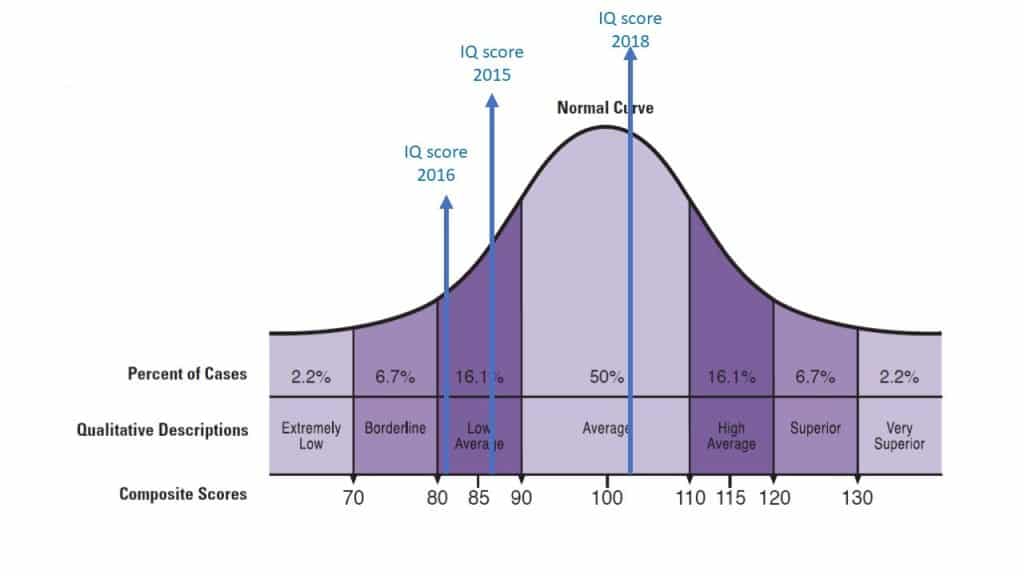 ---

---