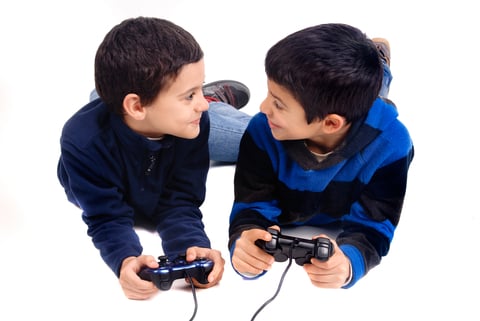 Just like most kids will choose ice cream and candy over a healthy meal, most children will also prefer to play video games than to do something to benefit their education. Parents often need to make conscious decisions to maintain their children's balance between educational activities and play. Follow the tips below to incorporate more educational activities into your children's week so they can be their academic best in school.
Setting a limit for game playing is important to achieving balance between play and educational activities. For older children that have Facebook or other social network accounts, it is also beneficial to set a time limit for enjoying these activities. These venues are not inherently bad and they can be immensely beneficial by helping your child to unwind and just have fun, but they do have a knack of absorbing too much of a child's attention to the detriment of other important activities.
One option might be to designate a no-internet or no-video game night each week and filling that time slot with a family activity. Instituting a family reading night is a good way to demonstrate the importance of reading to the entire household. Even reluctant readers can be encouraged by some type of reading material — even if it's about their favorite video games. The important measure is that children practice reading skills at home and learn to value its importance. Critical reading is a life skill that crosses disciplines; your child can reap the benefits of reading no matter what career they eventually choose.
Introduce library time to your family's routine either weekly or every other week. This will allow the children a wide array of reading materials to choose from. Libraries often have free programming which can be of interest to both children and adults. Children who learn to navigate the resources of their local library will have an easier time researching for school projects as they grow up. It's also a fount of pure learning enjoyment. Kids can find novels and information to suit every taste. Personal library time is also a way kids can take some ownership of their education by choosing topics that they want to learn about.
If instituting no-internet nights is too drastic, consider using the educational features of the internet to encourage learning from home. There is a myriad of free educational websites for children of all ages. Kids can learn valuable keyboard skills, practice their multiplication tables, or find out the behaviors of their favorite exotic animals by using the internet educationally. Begin by researching your child's favorite author or finding YouTube clips about a breed of dog your family might be interested in purchasing. Teaching kids to use the internet wisely is a major part of their education.
It is also important to keep plenty of arts and crafts materials in a reserved space in the home. Creating clay animals, sewing pillowcases, drawing with charcoal — these activities can be just as fun as playing a video game, but usually require some encouragement. In the end, they support education and help make your child well-rounded and skilled in a variety of areas. Visit the local educational store to find fun and educational activities and materials to support learning at home.
Finally, keep a variety of educational videos and documentaries on hand. Allow children to choose something fun as well as something educational; it won't be long before the educational video is just as fun. It may be necessary to limit cartoon time, but it's a simple measure to incorporate learning at home. Whether it's learning about tsunamis or how other cultures celebrate the holidays, watching documentaries is a way to enrich a children's bank of knowledge.
.
---
---