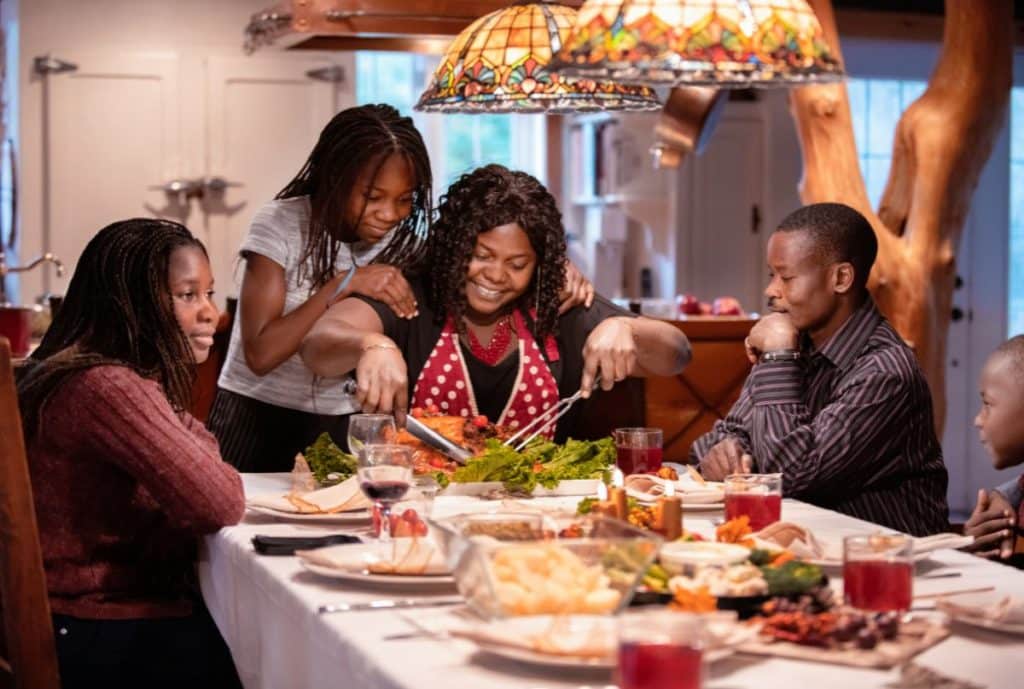 Family dinner time is an important part of the day. Not only is it a time to sit down and have a nutritious meal, but it also provides family members with the opportunity to connect as they talk about the day's events.
This mealtime ritual has numerous benefits for children and teens, ranging from improved health to better outcomes at school. Discover five benefits of regular family dinners, and learn why you should make a family meal part of your daily routine.
Family dinners lead to healthy weight
Regular family dinners can have a significant impact on your child's health. According to the results of a study in a 2005 edition of Obesity, children aged 9 to 14 who eat family dinners on all days or most days are less likely to be overweight than children who eat family dinners never or only some days.
A 2011 study in Pediatrics found that children and teens who had family meals at least three times per week were more likely to be at a healthy weight and to have healthy diets than were those who had family meals fewer than three times per week. Children whose families eat dinner together six to seven days per week also have higher quality diets than children whose families eat dinner together less often, according to research in a 2010 edition of the European Journal of Clinical Nutrition.
Family dinners reduce problem behaviors
Family dinners could also reduce problem behaviors among children. For example, a 2010 study in the Journal of Adolescence found that females who ate family dinners more often were less likely to run away and use drugs. Males who ate family dinners more often were less likely to drink, engage in physical violence, steal, run away, and destroy property.
A 2006 Journal of Adolescent Health study found that more frequent family dinners were associated with less substance abuse, sexual activity, violence, and antisocial behavior among children in 6th through 12th grades. This association remained significant, even after family factors and demographics were considered.
Regular family meals improve school performance
Engaging in regular family meals could improve children's performance at school. As the authors of a 2006 report in New Directions for Child and Adolescent Development explain, conversations during family meals help children to learn new words and practice storytelling. This could undoubtedly help children perform better at school.
In addition, a 2004 study in JAMA Pediatrics found that adolescents who ate family meals more often were less likely to have low-grade point averages. Finally, children aged 6 to 11 who have more family meals are more engaged in school, according to a 2014 study in the Journal of Family Psychology.
Family dinners improve mental health
Regular family dinners may improve your child's mental health functioning. More frequent family dinners are associated with better emotional well-being and higher life satisfaction, according to researchers for a 2013 edition of the Journal of Adolescent Health.
A second study, included in a 2014 edition of Advances in Mental Health, found that family meals were associated with happiness among adolescents.
Family dinners improve family functioning
In addition to the numerous other benefits, regular family meals can improve overall family functioning. For example, according to a 2010 Journal of Family Psychology study, urban adolescents who eat family dinners more often feel that they have better communication with their parents.
Family dinners can also improve family functioning through increased bonding. More family meals are associated with greater family cohesion over time, according to researchers for a 2008 edition of Health Psychology.
One of several benefits of regular family dinners is improved family functioning. As discussed here, children and teens who have frequent family dinners enjoy various benefits, including better physical and mental health, improved school performance, and fewer problem behaviors.
So take the time to sit down and have an evening meal with your family; the effort will be well worth the rewards.
.
---
Edublox offers live online tutoring to students with dyslexia and other learning disabilities. Our students are in the United States, Canada, Australia, and elsewhere. Book a free consultation to discuss your child's learning needs.
---

---