In October 2022, Edublox Online Tutor conducted an online benchmark survey to help us measure our performance as a business and the quality and results of our Live Tutor service.
Forty-two percent of our clients — new and old, past and present — completed the survey. From the results, we can make important decisions to help us improve our clients' customer experience.
Edublox's Net Promoter Score
Net Promoter Score (NPS) is a customer satisfaction benchmark. It measures the loyalty and satisfaction of an organization's customers or clients and is reported with a number from -100 to +100. Edublox scored 77 (excellent) compared to the educational industry average of 44 (great).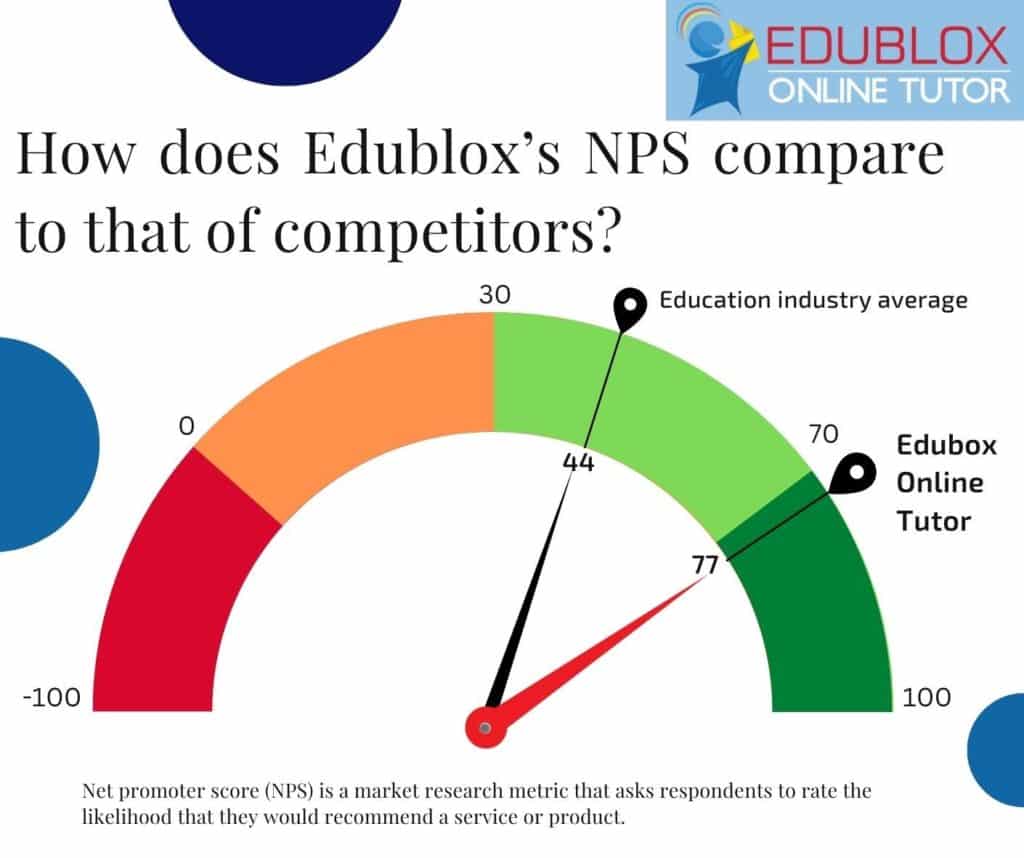 Quality of the Live Tutor service
We asked our clients to rate the quality of our Live Tutor service. Our clients' ratings (blue) are compared to the educational industry benchmark (yellow):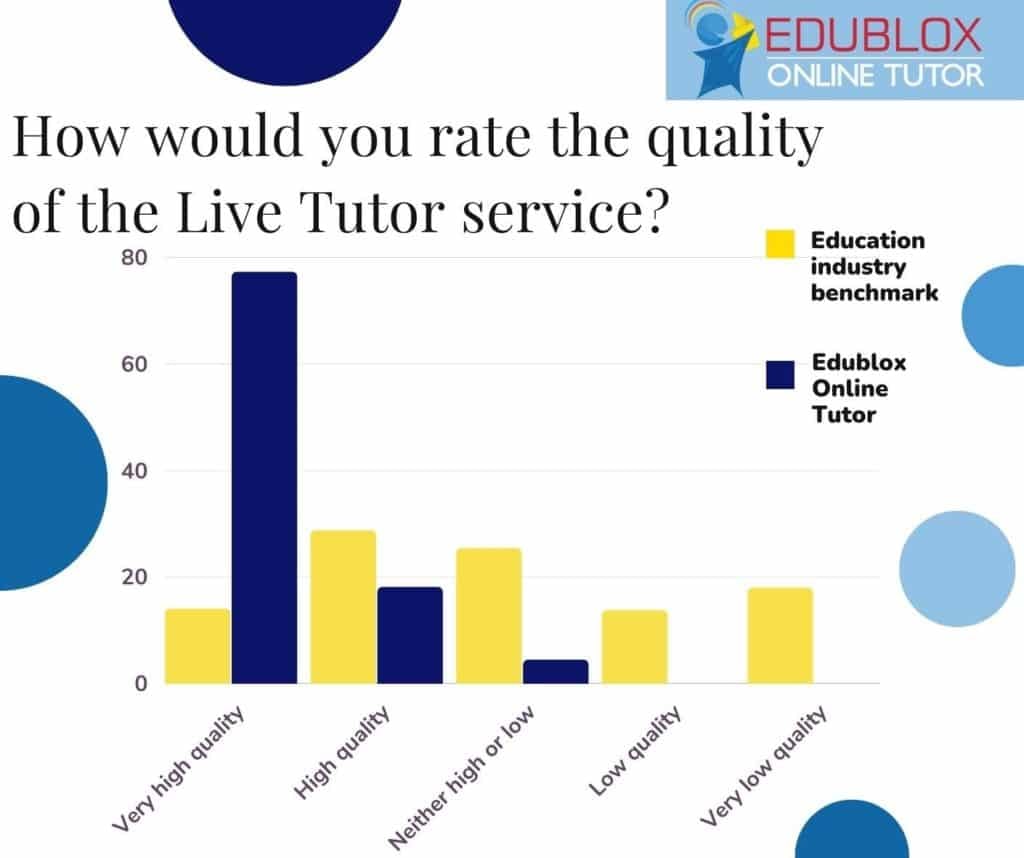 How well it meets clients' needs
We asked our clients how well the Live Tutor service meets their needs. Our clients' answers (blue) are compared to the educational industry benchmark (yellow):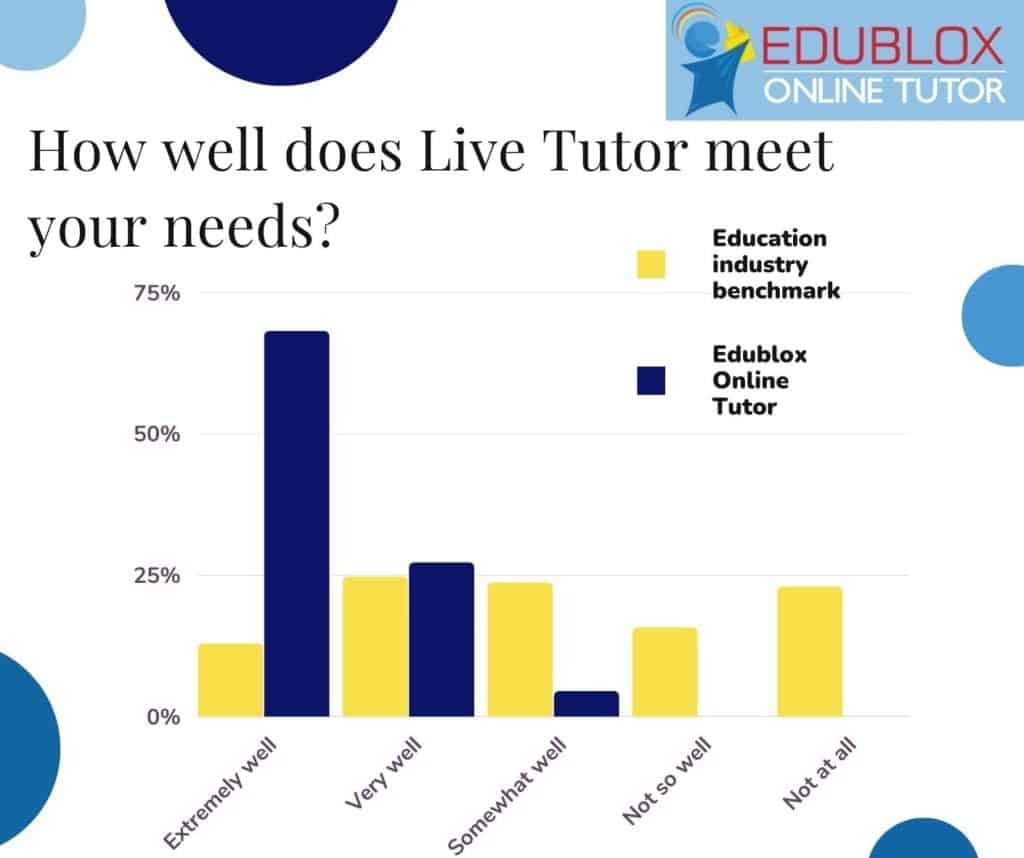 How satisfied clients are
We asked our clients how satisfied they are with Edublox overall. Our clients' answers (blue) are compared to the educational industry benchmark (yellow):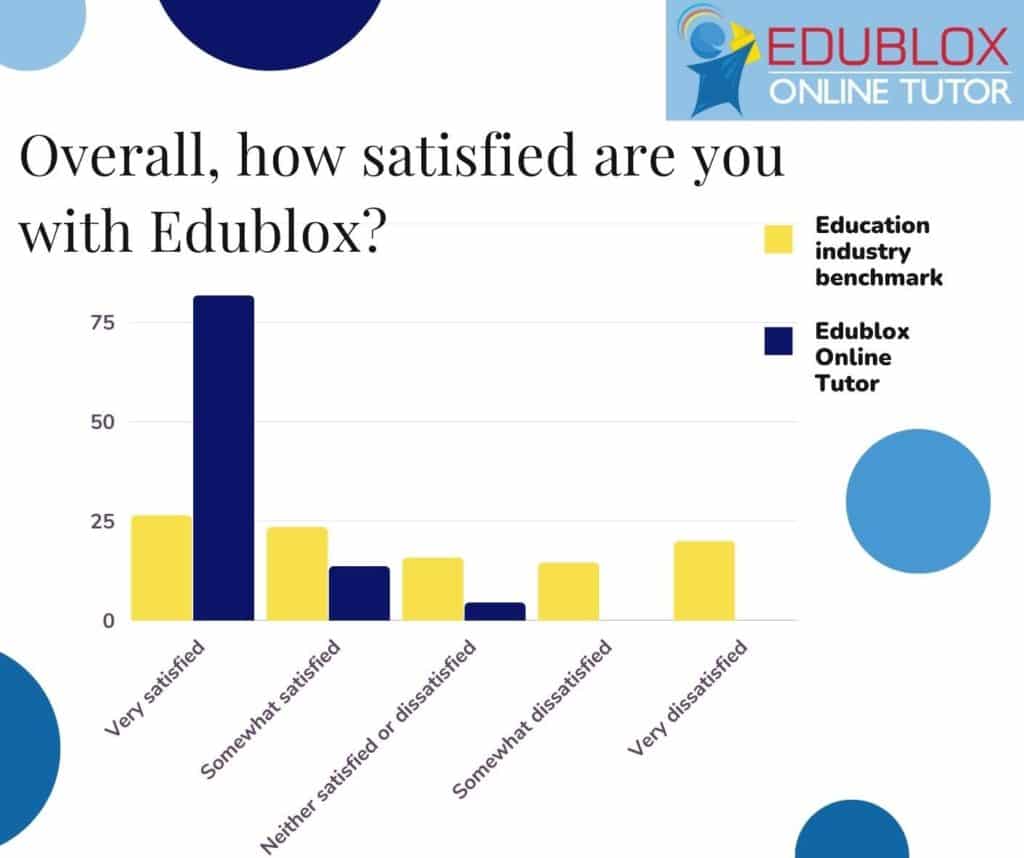 How clients describe the Live Tutor service
We asked our clients to select words that describe the Live Tutor service.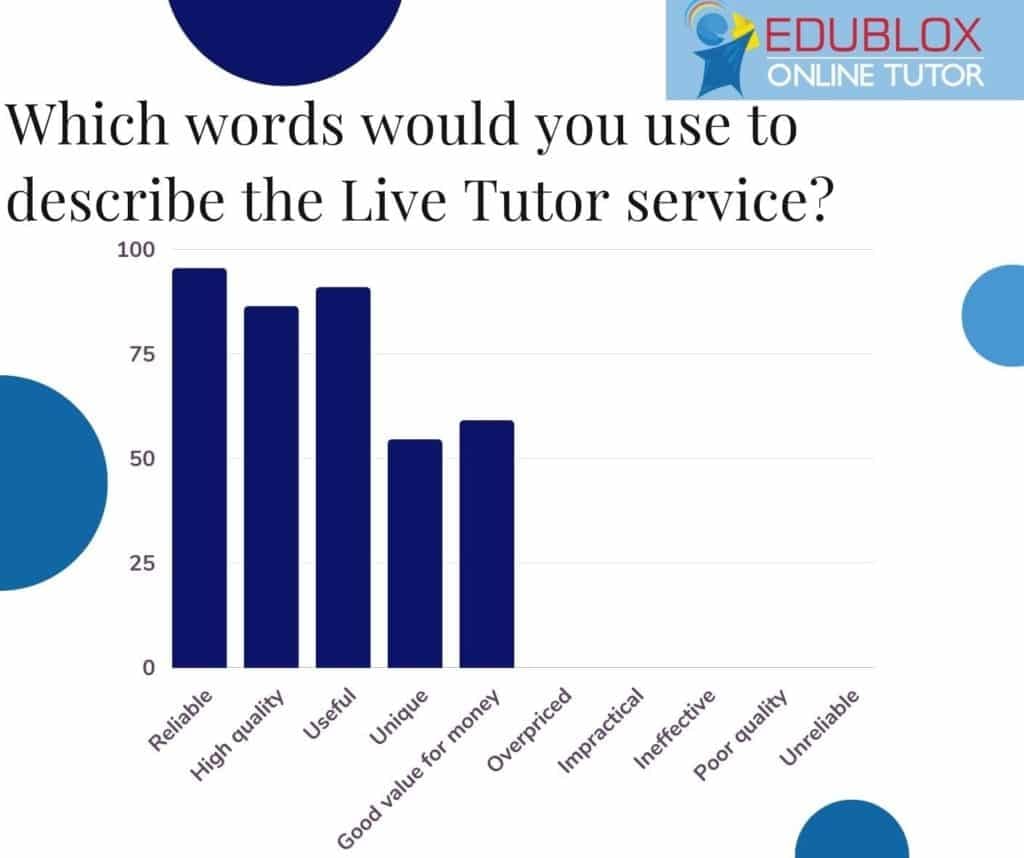 Selected feedback from parents
The live tutor service was great! Flexible timing, easy to access, and highly effective for my son.


The approach is very methodical and has been adapted to my child's needs. This is a truly customized teaching that gets results.
Fantastic service. Did an excellent job helping my preteen daughter with her severe dyscalculia. Would recommend the service to anybody.


Great school, exceptional, skilled teachers, passionate and supportive mentors. Our son has made brilliant progress and talks about his teachers and learning. My husband and I are very happy.


Our tutor is well educated and a terrific role model for my boys — positive force in their lives. This is all over and above the actual tutoring service, which has been helpful for my ADHD kids — who need constant reinforcement.
What you have created is brilliant! Seriously, it's quite incredible and I'm super impressed.


The progress they have made in the time using Edublox is much greater than what I could have accomplished with them on my own. Most of all, the boys enjoy their sessions for both Math and Language arts. The lessons are well thought out and customized for their learning needs. It is obvious that the teachers put time and energy into making sure that the necessary material is covered.


The team leader is always responsive, accommodating and insightful. We cannot be more thankful that we found Edublox.


Our tutor is extremely professional and personable. She relates in a gentle and insightful manner with my child in a way no one has been able to before. My child had extreme math anxiety and now often leaves a session stating "I love math!" She was able to make gains in a few months that multiple tutors and myself had worked on for years without any positive movement. The incremental approach has snowballed into a lovely movement of learning! More than pleased.


Vivienne desperately needed the help and the constant review, and we are grateful that the live tutor provides both.


The current program involving spelling is extremely helpful.


The only reason I wouldn't be fully recommending is because we are still on our journey.


I love our tutor. She is so patient with our daughter and communicates well with me.


The overall program is very professional in general. My son joined my daughter in doing the Developmental Tutor. He grew leaps and bounds in his spatial reasoning and this helped his spelling practically. At the start he could only build simple Lego designs and basic puzzles, but by the first month of the Developmental Tutor he was creating intricate designs and accomplishing much more difficult puzzles. Simple things like this have impact on learning, especially math. We are very thankful for finding this program.


She has a great talent for assessing how Veronica is on a particular day and how to get the best from her. She is flexible to change the session accordingly.


I always recommend Edublox to others with struggling children.
---
Edublox offers cognitive training and live online tutoring to students with dyslexia, dysgraphia, dyscalculia, and other learning disabilities. Our students are in the United States, Canada, Australia, and elsewhere. Book a free consultation to discuss your child's learning needs.
---