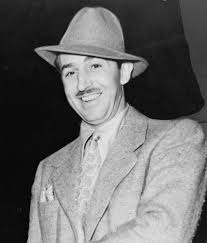 Walter Elias "Walt" Disney was an American film producer, director, screenwriter, storyteller, voice actor, and animator.

He and his staff created several of the world's most popular animated properties, including the one many consider Disney's alter ego, Mickey Mouse.

Disney was also the cartoon artist of comic books and newspaper comic strips, the creator of an American-based theme park called Disneyland, and the co-founder with his brother Roy O. Disney of Walt Disney Productions, the profitable corporation now known as The Walt Disney Company.

Walt Disney is also remembered for his dyslexia, or so it is claimed on numerous websites on the Internet, and in a cover story in Time Magazine, a story to which the Walt Disney Family Museum responded:

"Experts about dyslexia are learning more and more about this problem and ways to treat it. It's clear that while dyslexics have difficulties learning to read, they are often very bright — even extraordinary.

"The cover story in the July 28 issue of Time Magazine thoroughly and articulately gives readers a solid understanding of the current state of understanding about dyslexia. It points to a number of 'role models,' who are dyslexic including Tom Cruise, Whoopi Goldberg and Jay Leno.

"Why are we mentioning this in the Walt Disney Family Museum? Because Walt Disney is also on Time Magazine's list of prominent dyslexics. And there's a problem with that. Walt was not dyslexic.

"Says Dave Smith, Director of the Walt Disney Archives, 'There is no indication anywhere in Walt's history that he ever had dyslexia, either in his childhood or during his business career.'

"dys-lex-ia\ n: 'an affliction affecting a person's ability to read, usually associated with a mental process that causes distorted perceptions of letters and words.'

"The reputable biographies of Walt make no reference to his having dyslexia. He never made reference to any difficulty reading and he wrote fluidly. His difficulties in school — which may have led one to think there was some kind of learning disability — were almost certainly tied to fatigue. From age ten on, Walt was up before dawn delivering newspapers before school. What's more, he had a variety of other jobs that took his time and kept him from concentrating on schoolwork.

"In fact, had Walt suffered from this syndrome, the Family Museum would happily boast about the fact, and make certain that he was a known role model for young people battling with the obstacles dyslexia can present.

"But given the number of myths that exist about Walt, it is nonetheless disturbing to witness yet another one entering the public mind. We called Time, and asked how they reached their conclusion. The short answer: The magazine assembled already-published lists of people with dyslexia. Then they did an Internet search of those people, and where they found any refutation of this idea (as with Albert Einstein) they took them out of the list. The remainder, they assumed, had dyslexia.

"To be sure, there are scores of references on the Internet that link Walt and dyslexia. Many are from respectable organizations. But repetition without refutation is hardly a sign of anything other than widespread ignorance.

"It is an honor of sorts that these groups want to claim Walt as a role model. But, honor or not, it doesn't make it true. And one of the primary goals of the Family Museum is helping to obliterate myths — even complimentary ones — about Walt Disney, in order to preserve the truth about the man and his legacy."
.
---
Edublox offers live online tutoring to students with dyslexia and other learning disabilities. Our students are in the United States, Canada, Australia, and elsewhere. Book a free consultation to discuss your child's learning needs.
---

---