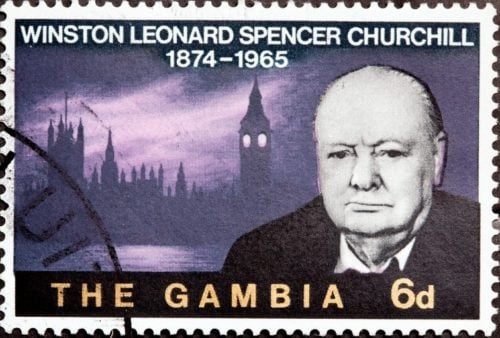 Sir Winston Leonard Spencer Churchill (1874 – 1965) was a British politician known chiefly for his leadership of the United Kingdom during World War II. He served as Prime Minister of the United Kingdom from 1940 to 1945 and again from 1951 to 1955. Churchill was a noted statesman and orator, an officer in the British Army, a historical writer, and an artist. He is also remembered for his dyslexia.
No dyslexia, states Centre
According to The Churchill Centre, however, Winston Churchill did not have dyslexia and had no learning disability whatsoever:
In his autobiography, he played up his low grades at Harrow, undoubtedly to convince readers, and possibly himself, how much he had overcome; but in this he exaggerated. He was, actually, quite good at subjects he enjoyed and, in fact, won several school prizes. The best source on his actual school performance is Jim Golland's Not William — Just Winston (Harrow: 1988), still available from the Harrow School Bookshop.
Writing career
Churchill began his literary career at 24 with campaign reports: The Story of the Malakand Field Force (1898) and The River War (1899), an account of the British campaign in Sudan and the Battle of Omdurman.
In 1900, Churchill published his only novel, Savrola, and, six years later, his first major work, the biography of his father, Lord Randolph Churchill. His other famous biography, the life of his great ancestor, the Duke of Marlborough, was published in four volumes between 1933 and 1938. 
Churchill's history of the First World War appeared in four volumes under the title The World Crisis (1923-29); his memoirs of the Second World War ran to six volumes (1948-1953/54). After he retired from office, Churchill wrote A History of the English-speaking Peoples (4 vols., 1956-58).
His magnificent oratory survives in a dozen volumes of speeches, among them The Unrelenting Struggle (1942), The Dawn of Liberation (1945), and Victory (1946). Churchill, a gifted amateur painter, also wrote Painting as a Pastime (1948). An autobiographical account of his youth, My Early Life, appeared in 1930.
To be exact, Churchill wrote 43 book-length works and received the Nobel Prize in literature in 1953.
Churchill had a lisp
The disability he suffered was a lisp — not a stutter, as some believe. Churchill was unable to pronounce the letter "s." He fought to overcome this but never entirely succeeded. Instead, he gradually made it a distinctive part of his oratory, turning a liability into an asset.
This is undoubtedly something young people should find motivating, but it is inaccurate to suggest that he had dyslexia.
---
Edublox offers cognitive training and live online tutoring to students with dyslexia, dysgraphia, dyscalculia, and other learning disabilities. Our students are in the United States, Canada, Australia, and elsewhere. Book a free consultation to discuss your child's learning needs.
---

---