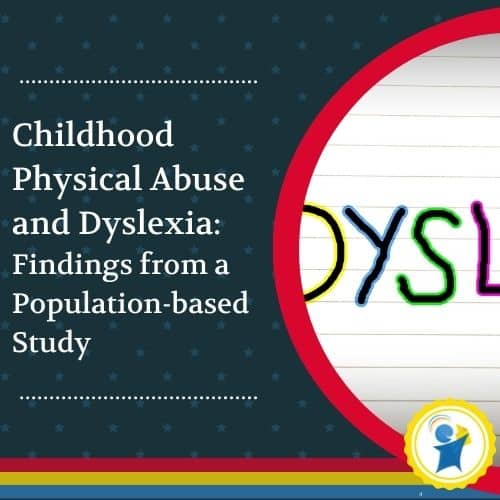 A study by Fuller-Thomson and Hooper (2005) examined the relationship between a history of dyslexia and childhood physical abuse.
The authors hypothesized that the prevalence of dyslexia would be significantly higher in individuals who reported a childhood history of physical abuse in comparison to those who did not report such a history.
They analyzed data from 13,054 respondents 18 years and older. One-third (34.8%) of respondents who reported they had been physically abused during their childhood or adolescence also reported being diagnosed with dyslexia, compared to 7.2% of those who did not report being physically abused.
After adjustments, the ratio of people with dyslexia who reported being physically abused compared to their peers was 6.09 times higher.
The study results were published online in the Journal of Interpersonal Violence.
"Our data do not allow us to know the direction of the association. It's possible that the presence of dyslexia and related learning problems may place some children at a higher risk for physical abuse, perhaps due to adult frustrations with chronic learning failure," said study co-author Stephen Hooper.
"Alternatively, given the known association between brain dysfunction and maltreatment, it could be that the experience of physical abuse may also contribute to or exacerbate such learning problems, secondary to increased neurologic burden."
---
Edublox offers cognitive training and live online tutoring to students with dyslexia, dysgraphia, dyscalculia, and other learning disabilities. Our students are in the United States, Canada, Australia, and elsewhere. Book a free consultation to discuss your child's learning needs.
---

---