Terry Andre had had remedial lessons for three years for his reading problem. "I have taught him to cope with the work but I have not been able to teach him to read. His reading has always been a serious problem and he has been diagnosed as dyslexic," wrote Jennie van Zyl, Terry Andre's remedial teacher.
In the mid-year of fourth grade Terry Andre's reading ability was, according to Mrs. van Zyl, like that of a first-grade/second-grade child. His spelling was poor; he confused b's and d's, and found creative writing a problem. According to his class teacher, Mrs. Leslie, he was very untidy, always in a hurry, happy with second best and just generally not coping at all. Because the children laughed at his efforts, reading in front of the class caused him great embarrassment.
Terry Andre started on Edublox in the third term of fourth grade, a few weeks before the examination. He and Mrs. van Zyl spent half an hour, five days per week, on the program. He nevertheless failed third term with an aggregate of 54 percent.
Rapid improvement was noted during the fourth term. By the end of the school year Terry Andre was no longer reversing letters. "The other day," Mrs. van Zyl reported, "he picked up a book and I was amazed to hear him actually reading without any stammering, hesitation or repetitions. It was the first time he had ever managed without being taught the words first. Now, whenever there is any spare time, he asks if we can read."
His class teacher reported, "He has settled down, completes all his tasks to the best of his ability and takes pride in his work. He is also able to read aloud in from of the class without any of the problems which had caused him such embarrassment before."
Terry Andre passed fourth grade with an aggregate of 66 percent.
Three months later Mrs. van Zyl sent in a report once more: "It gives me great joy to listen to him and see his incredible progress. Thank you for your program. It certainly brings results."
.
---
An example of Terry Andre's schoolwork just before he started on Edublox: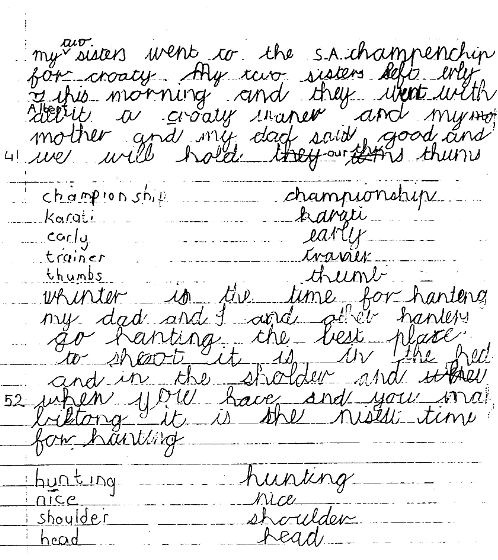 The striking improvement in Terry Andre's work after only six months: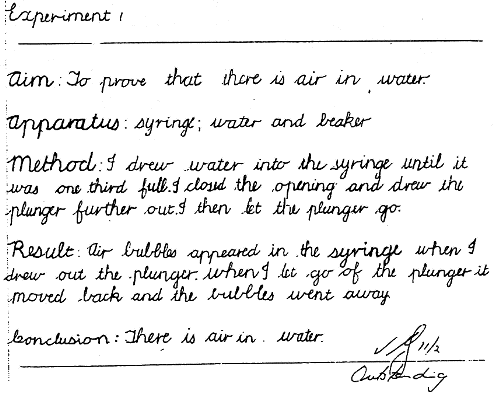 ---
Edublox Online Tutor 
offers multisensory cognitive training that enables learners to overcome reading problems and learning challenges and reach their full potential. Over the last 30+ years, the company behind the Online Tutor e-learning platform, Edublox, has helped thousands of children to read, learn and achieve through home kits and learning clinics internationally. Our programs are founded on pedagogical research and more than three decades of experience demonstrating that weak underlying cognitive skills account for the majority of learning difficulties. Specific cognitive exercises can strengthen these weaknesses leading to increased performance in reading, spelling, writing, math and learning.
---